First, a quick rundown of some changes and improvements that you may or may not be aware of:
• No longer are email addresses displayed below your posts or in your profile. This was changed for privacy reasons.
• Only BBCode is accepted now, no more HTML. This is why your signature may look funny. Read below on how to update your signature.
• A size limit was set for avatar images. This makes it so the structure of the forums isn't rendered wonky when someone has an extremely large avatar photo. The default setting was 80px by 80px, but that has been changed to 200x200. Please read below if you wish to know how to enlarge your current avatar.
• A new color scheme option has been added. As much as we all love the pink and blue, a neutral gray was added as well.
• You can now report spam when you see it. There will be a little icon in the upper right hand of a post that looks like an exclamation point. You can click that to easily report spam. This notifies the moderators so we can take care of it!
• The Journal feature has been retired. As it was a rarely-used function, the owners/admin thought it was best to focus efforts on maintaining the more popular aspects of the site.
• There is now a Quick Reply option to posts, which is very convenient.
ACCESSING THE USER CONTROL PANEL
With the new forum software, when wanting to make changes to your signature, profile, settings, avatar, etc, you now click on
User Control Panel
.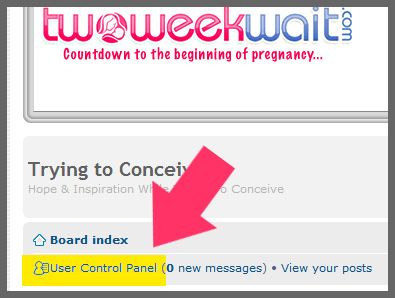 Once in the
User Control Panel
, you'll notice many more features and options than what was previously available. Here is what the
User Control Panel
main screen looks like:
As you can see, there are several tabs that you can navigate. By default, the
Overview
tab will come up automatically. In the
Overview
tab, one nice feature is the ability to
Manage subscriptions
(any threads or forums you subscribe to, which makes it easier to find them and to receive notifications when there is an update). Also in the
Overview
tab is the
Manage bookmarks
feature, where you can easily access topics you have bookmarked for later reading or easy locating. You can also save your message drafts in this new software. If you do, you can manage and edit your drafts in the Overview tab as well, by clicking on the
Manage drafts
option.
The next tab, beside
Overview
, is
Profile
.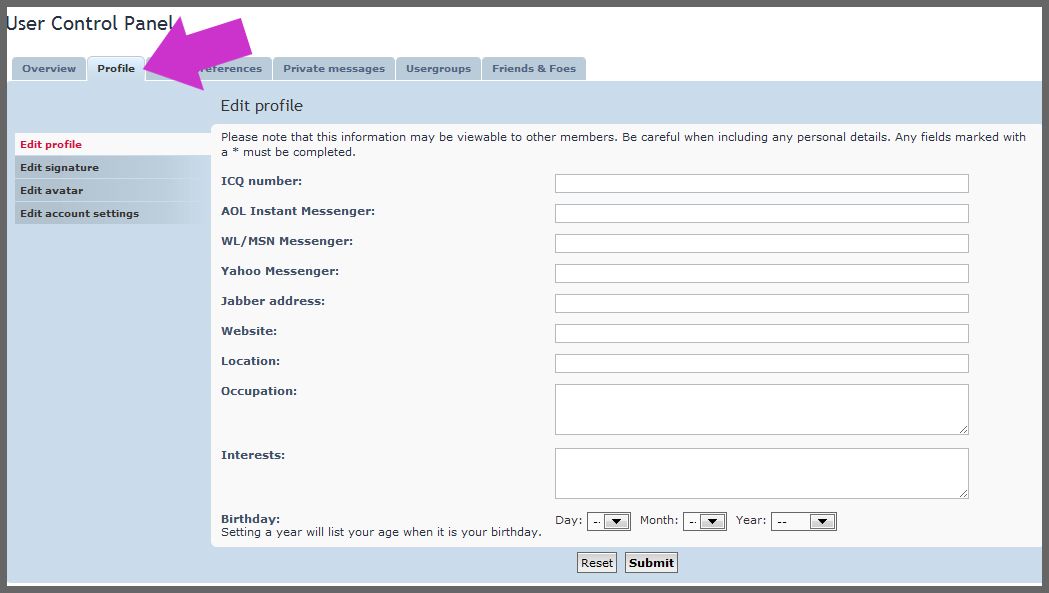 In the
Profile
screen, you can adjust your settings, avatar, signature, etc.
Clicking on
Edit signature
will pull up a text entry screen so that you can edit/create your signature. One really nice feature is the ability to make enhancements to yoursignature text, just like you would in a new post. With options such as color, bold, URL, etc, you can customize your signature more easily than before.
Below the
Edit signature
option, you'll see
Edit avatar
. When we made the switch over to the new site, we set a limit on avatar size (80 pixels by 80 pixels). Turns out that's pretty small! All avatars were automatically adjusted in the process. The admins have changed it so that avatars can now be a maximum size of 200 pixels by 200 pixels.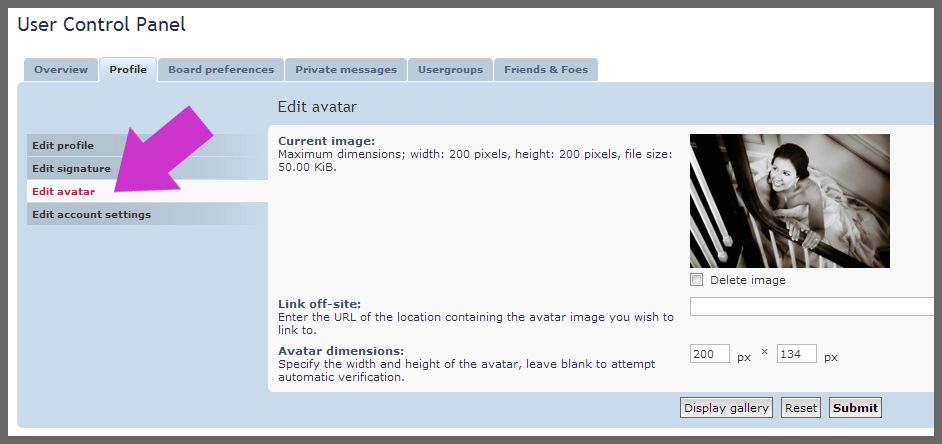 In order to adjust your current avatar to a larger size, simply go down to the
Avatar dimensions
text boxes and delete the numbers out of there. Please note: this will ONLY work if your avatar photo is already 200 pixels wide or less. If it is larger than that or you get an error, please move on to the next step. If you do not get an error, your avatar photo should be larger!
If you have gotten an error, you have a couple options. You can either:
1. Adjust the size of your photo to 200 px wide maximum in a photo editing program (Photoshop, Paint, etc), or adjust the size on Photobucket or wherever you are hosting the photo. Then re-upload or re-link the newly sized photo.

Or...
2. Guesstimate. In the

Avatar dimensions

text boxes, you can put 200 in each of the blank text boxes, and see what it gives you! This WILL resize your photo,

but

the proportions will most likely be off (i.e. you will have a squished photo or a stretched photo). You can play around with the options here until your photo looks normal (For a vertical/portrait photo, set the second text box to 200 and adjust the first one until your photo looks normal. For a horizontal/landscape photo, set the first text box to 200 and adjust the second box until your photo looks normal by trying different numbers, such as 175, 150, 125, etc. until it looks right).
Finally, the last option under the
Profile
tab is the
Edit account settings
option. Here you can update your email address (which will require activating the account via the new email address), or change your password.
The next tab over is
Board Preferences
. I'm not going to go through all of the options, as most are self-explanatory. But, I do want to mention that there is now an option for a new color scheme! Previously the only options were pink or blue. There is now a gray option as well.
And after that tab, is the
Private messages
tab. Here is where you can compose, read, and check the status of your private messages.
There is an interesting new tab called
Friends & Foes
. I'll admit, I've not really played around with this much, but it seems interesting enough. Here you can add members to either your friends or foes list, which alters some viewing settings.