Did I ovulate or am I about to?? What do you all think? I'm so confused!
Negative OPK yesterday...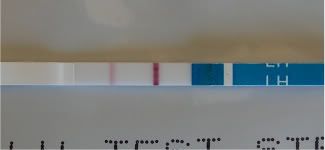 Blazing today...

Temp skyrocketed this morning.
Had an awful headache last night (I always have this on O day).
Horrendous ovary pains last night, but they are more mild today.
I would say I O'd last night for sure, but the OPK is throwing me (I took 3 yesterday at 11am, 2pm, and 10pm; all were negative).