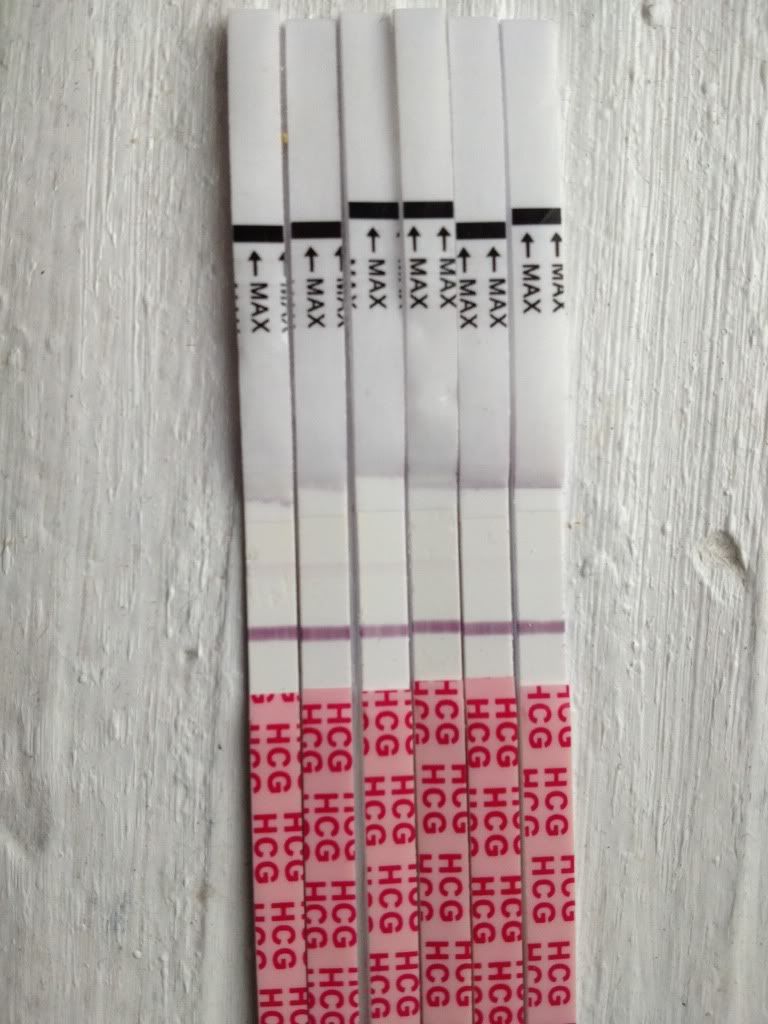 Those are my sticks covering a 24-hour span, starting at about 3am July 3! So exciting and wonderful and scary. I'm only 10dpo now, so I know it's very early. But I'm hopeful this will stick...my first BFP ever, by the way!
Anyway, here were my symptoms:
1-5dpo
- sore boobs, but nothing out of the ordinary
6dpo
- light cramping on the left side followed by about 2 hours of pinkish brown spotting. (This is really when I was like, "hey....!")
7dpo
- semi-sore boobs, but noticeably sensitive nipples - that was a first! Weird, vivid dreams. Swollen lymph nodes - feel like I'm fighting off something. Slightly more tired and zoned-out feeling than usual.
8dpo
- boobs seem less sore, I start to think I might be out. Vivid dreams continue. Still tired and zoney.
9dpo
- wake up in the morning, test, and see the faintest line!
Continue to test throughout the day, and keep getting darker lines. Develop a wicked headache over the course of the day. I am prone to these, but typically they start on the left side of my head - this one has started and stayed on the right, which is unusual for me. Sensitive nipples continue. Super tired! Went to bed around 10pm, which NEVER happens.
10dpo (today!)
- more vivid dreams last night. woke up at 3am with anxiety - want this bean to stick!!! headache was almost non-existent in the morning, now more noticeable. Nipples still sensitive. Still tired, have kind of lost my will to move, lol.