Thu Jan 22, 2015 9:58 am
Okay ladies! Here is is! Now lets fill this thread with posts, bfp's and births!
All welcome

Rhonda and Sept! Whats going on?
Thu Jan 22, 2015 10:43 am
Hi! 5dpiui and testing out the trigger, still faint line.
Thu Jan 22, 2015 3:35 pm
5dpo and bfn I know I know it is too early
Gas, bloated etc pretty sure our bd schedule sucked this cycle, it is as if the egg deliberately waited til we had 5 days of no bd'ing and then decided oh I will pop out now the coast is clear
Thu Jan 22, 2015 5:04 pm
Sept we are cycle buddies
Fri Jan 23, 2015 7:24 pm
ok, so here are my trigger tests, the bottom one is todays, it looks darker to me irl, i know that doesnt really mean much yet, but praying!!!!!!
Sat Jan 24, 2015 3:48 am
Yay cycle buddy Rhonda! Fx for you keep poas!
Sat Jan 24, 2015 1:02 pm
Hi!!!
I'm dpo 4 right now in my 2nd cycle TTC after a miscarriage at 6 weeks and then two months of waiting for my cycle to regulate so we could even start trying again. I'm going to start testing Feb. 1. I feel good this time! Even though I always convince myself that I'm pregnant I do feel more like the time we actually conceived than I have during my other cycles, so we will see!!
I'm terrible about waiting and silly me, I said, go hunting with the boys honey.... So I'm all on my own today. So far I've swept all the floors, some laundry, and got 95% to finished on our taxes, hahaha!!! I need help sometimes I think
. Oh! And streaming sister wives.... I have such a soft spot for junk on TV.
Sun Jan 25, 2015 1:47 pm
Hey ladies!
Rhonda- there is no pic attached. I am assuming the line isn't getting darker- because it's 8dpiui and I figured we would have heard from you if you got a bfp. Still SUPER early!
Sept- uh don't you HATE it when that happens.
But the best sperm can live five days...or the say...and it only takes one!
Paige- Welcome- sorry about your loss. The waiting inbetween was VERY difficult to me. I hope you find some healing in TTC. Feb 1st is my bday! I will be praying for a bfp! (ps its a good day!)
AMF- 12 WEEKS! I made it. I have my NT scan Monday and of course they are calling for 8-12 inches of snow and it will probably be cancelled. I'm worried my baby will be sick- but i guess thats the worry of a Mom after a loss right? Also I have like PTSD from going there from the last time. Please pray for me. I am a nervous wreck
Sun Jan 25, 2015 7:12 pm
star, i will be praying everything works out for you and for peace and comfort
Paige, sorry for you loss and welcome to our page
Sept, when are you testing?
Mon Jan 26, 2015 6:14 am
Paige welcome! Sorry for your loss
waiting is very hard.
Star kup on today, I have everything crossed!
Rhonda I have been testing early but bfn. Will test again tonight not very hopeful. Got my 9dpo bloods today results in a few days
Mon Jan 26, 2015 10:37 am
Today has been a nightmare so far. First we are getting that blizzard. So waiting to see if I will have an appointment. Last night DD who is 20 months spiked a fever. So- what to do with the babysitter who has a 9m old? Drama one. Drama two. Because of the snow, the babysitter doesn't want to come (and it's BARELY SNOWING...Right now it's doing nothing!) So, she wants me to drop DD at her house....DD has never been there, shes sick, and it's nap time. DISASTER. I woulnd't be so annoyed but I watched her baby for 2 weeks straight all day...while I was 7w and 8w pregnant and feeling like crap. A little effort would be nice. So, we are taking DD to the appointment, which I wanted to avoid since it's hard for me anyway to go there because of what happened last time. I'm sure everything is fine- I am just nervous.
Mon Jan 26, 2015 4:56 pm
Star- everything go ok?
Mon Jan 26, 2015 9:56 pm
star, how did your appointment go? I hope everything is ok and you got home safe and sound. I also hope dd gets better. I stayed home today because i had a fever last night, i think i have the flu. going to work tomorrow for an all day in-service.
here is todays progression pics, todays looks a tad darker than yesterdays... fX!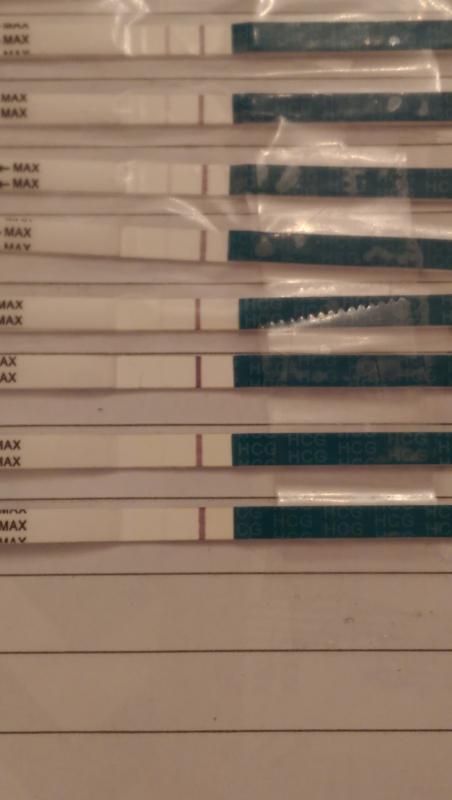 Tue Jan 27, 2015 12:58 pm
OMG RHONDA!
Tue Jan 27, 2015 4:55 pm
Today's test was blank. Fx it comes back.