Fri Sep 15, 2017 6:48 am
Okay, well it's not letting me send some of you friend requests, so feel free to add me once you find the group! <3
Fri Sep 15, 2017 7:24 am
We tried for a while too. 15 consecutive months. I got pregnant on our 8th month but lost it about 2-3 weeks later. Then it took another 9 months to get pregnant again. I got pregnant the week my lost baby was due so now every month that goes by I get to be reminded of how old my baby would have been. By the time this baby gets here I'll have been waiting for it for 2 years. Longest pregnancy ever!
Fri Sep 15, 2017 1:00 pm
Yay for a FB group! I'm going to request to join now.
Mon Sep 25, 2017 7:07 pm
So I guess you guys switched to Facebook. I'm not big on Facebook. I miss seeing your posts, but I wish you the best in the weeks to come and try to post here from time to time.
Tue Sep 26, 2017 5:30 am
Hey lady, we're still checking in here from time to time. Or at least I am!
How are you doing? How's that baby?
Tue Sep 26, 2017 6:35 am
I still pop in too just to check if there are any new posts. Hows the baby? I had an appointment today. I guess these are all the boring pointless appointments when you have a doppler and a scale at home. No wonder the last half of the pregnancy seems to drag on.
Thu Sep 28, 2017 5:20 am
He's doing great. He's now 9 lbs 6 oz and has outgrown his first pjs. He doesn't sleep much at night though, and he's a bit colicky in the evenings. That combined with the blazing heat of the last 10 days has really carved dark circles under my eyes (even when he slept it was so hot I couldn't sleep even though I have a/c). But we had thunderstorms yesterday and the weather is back to normal, so it should get better in the next few days. He's begun to smile when he's really excited about my voice or my face. He loves his bath time. I bought a blooming bath for him and I'm really loving it.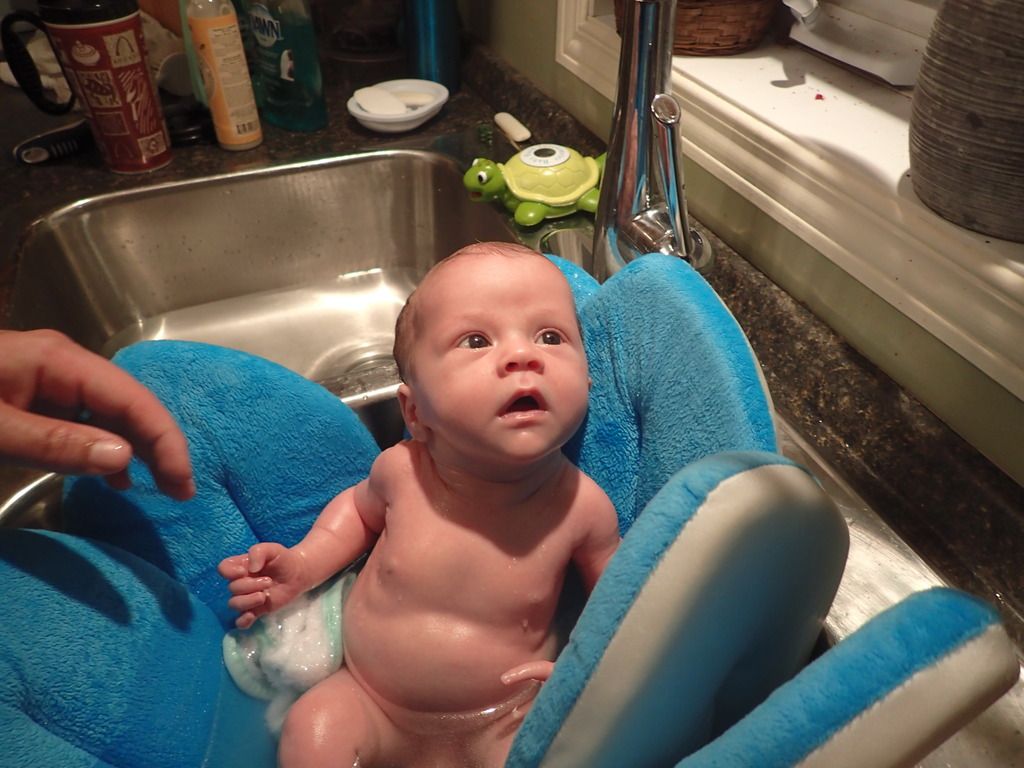 Thu Sep 28, 2017 5:35 am
Ahhh! I registered for one as well as a bath sling or whatever and I was hoping it was as awesome as I expected!
Yay! He's beautiful!
Thu Sep 28, 2017 5:54 am
Ohh hes so cute and so alert for bath time! I had a mesh chair sling type thing with my youngest. I saw these flowers but I'm undecided yet on what type i'd like to get.
Tue Oct 03, 2017 5:00 am
Hi girls! I just wanted to say that since the heat is gone he's been back to his old routine of 2-3 feedings per night and he goes right back to sleep after. Yay!
How is the pregnancy going?
Tue Oct 03, 2017 5:28 am
Yay! That sounds great!
For me, I'll be 23 week tomorrow and the biggest issue I'm having right now is back pain. Starting from last week I slept on my back wrong somehow and I've had sharp-take-your-breath-away pains in my upper back if I turn a certain way or try to pull my pants back up after peeing (which is a lot). Today I brought my heating pad to work, a tennis ball to roll out the tension, and I have a chiropractor appointment. So hopefully this combo helps. I also did a tiny bit of yoga to try to stretch it out and found that the cat/cow pose and childs pose really stretch it out. So... I'm gonna keep doing that. Also: I want to eat EVERYTHING.
A positive is all of the baby kicks I've got going! I love feeling them, and DH has been able to feel him pretty consistently, I'd say every other time he puts his hands on my belly.
Wed Oct 04, 2017 5:41 am
I'm 22 weeks and my pregnancy is pretty uneventful which is how my other 2 were so I'm not surprised. I'm overly disappointed that my doctor said there will be no more ultrasounds until delivery unless theres an issue. But I had scans 32-36 weeks with my other 2 kids so I was a little blindsided by the fact that they're just going to be like "Well, you LOOK fine so the baby must be fine." My cousin had a baby pass in utero around 24 weeks a couple of years ago and my grandmother also lost one in her 5th month so my paranoia will not stop. I'm either going to switch doctors or pay out of pocket for yet another scan towards the end to ease my mind.
Tue Jan 23, 2018 9:24 pm
Have you tried bestnest? I first read about them on
prenatal vitamin
website and they were the only kind that actually stayed down for me. I was sick all the time! I've heard that vitamin b6 by itself is good also. Starting to feel the kicks