Mon Jan 17, 2011 9:53 am
I'm wondering if anyone is in my boat and has thoughts on the matter...

Basically, I'm just wondering, for those of you with little ones 2 years or less apart-- did you bring or decide not to bring the older sibling to the hospital and what are your feelings about it afterward?

DD1, at 21 months, does not "get" that a baby is on the way, so there is really no anticipation factor to consider here. I will be having a scheduled c/section and will, obviously, be in post-op condition most of my stay at the hospital. I feel like if she comes to see the baby, while certainly a very special moment, it is going to upset her that I am not able to hold or cuddle her, and I also worry about a meltodown when she has to leave her parents and go home with her grandparents.

I am not one to fret about traumatizing an older child with a new baby, but I do want as smooth a transition as possible. I guess I am just wondering what you did and how you feel about it afterwards.

Thanks for any input!!!
Mon Jan 17, 2011 2:52 pm
I don't have any experience, but I just wanted to say that I'm a firm believer in following your instinct. It sounds like, to me, you feel it would be in her best interest to meet her new sibling later, so I would agree with that.
Mon Jan 17, 2011 8:42 pm
DS was 18 months when DD was born. DD was born at 4:33 AM and he visited with his grandparents that day and also the following day. He was overwhelmed by the whole thing, but I think the biggest issue was that he had never been away from us for the night (not by our choice) and that it was a shock to him to be away from us for 3 nights. He was clingy and cried a little bit during the visit, but he was (and really always has been) very attached to his daddy so he spent the visit on daddy's lap while I held DD. I would do things the same way given a second chance. I think that he needed to see me and DH and not have us just disappear from him for nearly 3 days.

I do agree with PP that maternal instinct is what you should go with. If you think your daughter would do better not coming to the hospital then you are probably right.
Mon Jan 17, 2011 9:29 pm
My girls are 14 months apart. My favorite mommy moment so far has been when my oldest DD came to the hospital to meet her new sister(it was love at first sight for my 14 month old):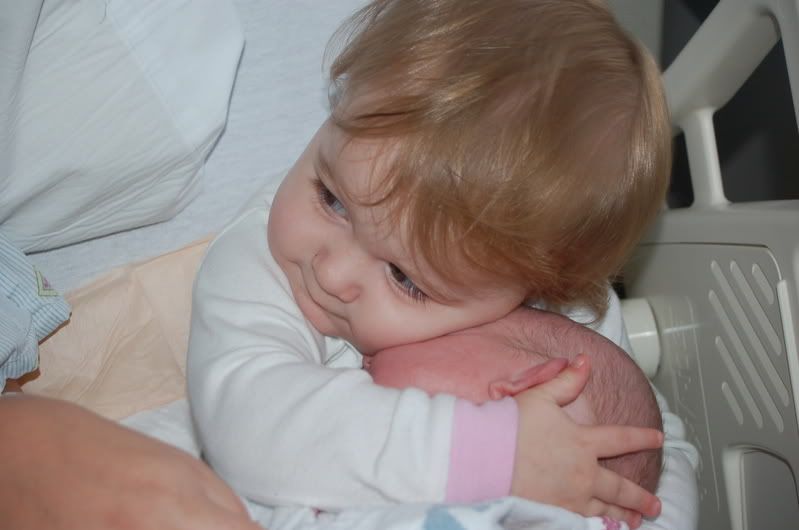 I am so excited to get to have another moment like this in March
Tue Jan 18, 2011 11:59 am
Oh my goodness blessedmommy!!!! after those pictures I have no idea how I could possibly not have DD come visit!!!!!! precious, precious, precious!!!!!! Talk about a kodak moment!!! I'm practically in tears right now--someone hand me some kleenex!!!!
Tue Jan 18, 2011 1:13 pm
My twins were 2y3mo when my baby was born, so just a little bit older than what you are asking for. They knew about baby, but I don't think they quite understood we'd be bringing a baby HOME with us. They did pretty well at the hospital, but got kind of rowdy after a while (we live an hour away, so my parents hung around for a couple hours or so, when they did come - they came a couple times, plus the kids also came when we went home, as my parents left that morning)...so if you do decide to have her come, and they'll be there for a time, maybe have an activity or a couple toys for her to do/play with.
Wed Jan 19, 2011 10:21 am
I also had a scheduled c and dd who was 15 mos at the time. I ended up in labour early and ended up having baby close to midnight. She was there and wouldn't go to sleep and was really difficult in the family waiting room for dh and eventually for my mother who took over around 10. My mom brought her to the hospital the next day and day after as well. In retrospect I would have her there to meet baby once...not every day. She ended up getting bored and irritated and was a lot of work...for my mom and dh as she ran the halls and played in the lounge.
Wed Feb 16, 2011 2:21 pm
DS1 was 9 months old when DS2 was unexpectedly born. DS1 was there at the hosp the entire time until it came to go to bed. One of the nurses told DF & I that DS1 couldn't spend the night because he was a baby. I was devastated. I've never been away from him EVER! So DF went home with him. We never left him with anyone, so he was attached to us. That night was so hard for me. The day I become a mother of 2 I am wihout both my babies! I called DF every 2hrs to see how he was doing (he was doing better than I was). I couldn't sleep that night. I kept tossing and turning. Come the day he came back at 6am
& he was right next o me in the bed all day. I took him with me when I went to go see DS2 in the nicu. He never left my side. He even stayed the night that night.