Updated photos further down!!!
Before our big U/S I had DH convinced that we would not do traditional pink if we found out it was a little girl. Growing up in pink rooms, I thought it would be nice to do something a bit different. However, once we found out we are having a girl, DH instantly flipped to mega pink man. At first, I thought to fight it but the joy he has been having in it really is touching--and I figure this is something HE can do nice for her and it makes great memories. I know I have posted the bedding before, but I am going to just have a running thread of it all together...
We chose this bedding from gap baby while it was on a really awesome sale: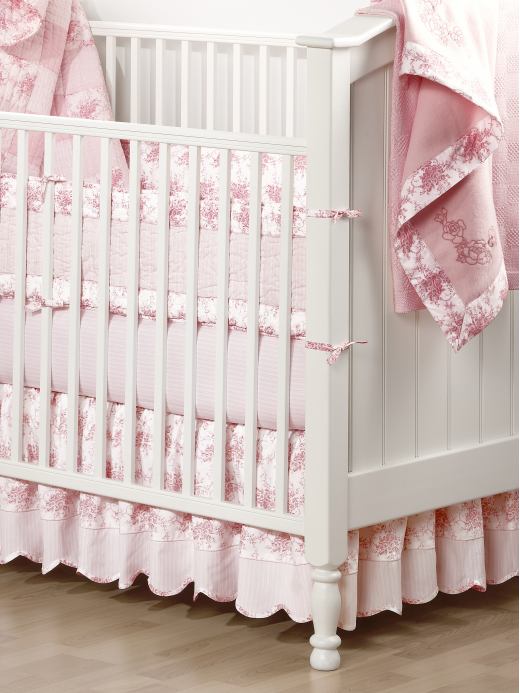 We were very fortunate to have FIL insist that he find the left over pieces of his childhood furniture. He had an Ethan Allen set years and years ago that was divided between DH and BIL and then scattered between divorces in the family. DH already had one old rocker that we love (and I purchased extra sheets from my bedding set so I can make a slip cover for it as it seriously needs some updating). A few months ago DH went and got his childhood desk (once his father's) and a tall dresser with dresser hutch (again once his father's) from MIL house. Then, this past weekend, FIL called us up to say there were two more pieces ready to go home with us--both have identical cabinets, one with a bookshelf hutch. DH painted the room and I hit the craft stores for some decor ideas. This is what we have so far!
The room from the door (this room is SO hard to photograph completely):
The room from the other angle:
The shelf up close to see the baskets--as the next weeks go by we are going to clean up the bookshelf and fill the baskets with diapers and changing tools as it will be her changing station next to the desk/changing table:
A hat box I purchased recently to hang on the wall for decor and any small item storage:
Close up of floral project number 1. I found a premade "hand tied" boquet, found some swelling beads, and assembled both into a clear vase:
Two floral arrangements I made. The tiny one is a little bucket I just added the flowers to (set in an oasis). The bigger one is actually a wall hanging (the metal back is obscured now) that was dinged, but matched...so I spray painted it white, added an oasis, and added the flowers. It will go on the wall once we start hanging up stuff:
Out "to do" list:
1) Finish her name letters. They are ceramic and came with beads that did not match. I have painted them a base white and have started to rebead them with pink and white beads. Once they are done, they will go over her crib.
2) Finish the slipcovers for the rocker, replace the fringe (will be done in velcro so that we can easily swap out the decor for the next baby or next room it will go in). Assemble the nursing stool. While I am sewing, consider making a valance for the window with any extra fabric.
3) Get a mattress, wash bedding, set up (saving this for much later so the bedding does not get dusty this early).
4) Make a few more floral arrangments for tops of hutches???
5) Hang up the wall hangings: the hat box, the flower box I assembled, and the little foot/hand print sets (obviously to be finished later). Also, find some cute photos of us and a frame for a photo of all of us.
6) Do the simple stenciling in the corners by the ceiling. I went to the paint store where we got our paint and got samples of all the colors on the card so they match and I can use it for stenciling and crafts.
7) Find a rug!
Fix up the closet as right now it is just one bar and shelf (we want to add some mini shelving). Tidy room, assemble other stuff, etc.
Not bad. I wanted the room to be to this point by now so I can continue to balance pregnancy, school, and finals all slowly before she arrives![/b]