Big Girl Room Makeover (x posted in toddler)
Posted:
Thu Apr 30, 2009 11:48 pm
I posted a while back asking for decorating advise and some of you were nice enough to give me your opinion. (old post
http://twoweekwait.com/preg/community/modules.php?name=Forums&file=viewtopic&t=111808So
) here is her big girl room! I had to fight with my sewing machine because I had some defective thread but otherwise it was a lot of fun making the changes.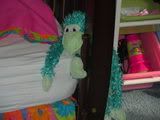 I suppose I should add some new cuteness too. She's not quite ready for the toddler bed yet, mostly because mommy doesn't want to mess with a good sleeper who hasn't figured out how to climb out yet. Because her crib changes so easily we take the side off during the day so that she can read and such in her bed. This was right before lunch. I was cooking and I went to go get her from her room thinking I would find her reading, but instead she had found one of the nuks she had hidden and was getting dagerously close to putting herself down for nap, but then she heard the word lunch and she was up and ready to eat.
[url]