Well, we finally finished our little girl's nursery! DH and I are neither one very "handy", so just setting up the crib and pack and play, hanging the shelf and other wall hangings and building the bookcase was tough for us
Here are some photos:
Her room from the side- you can see part of the crib, mobile, rug, hamper and curtains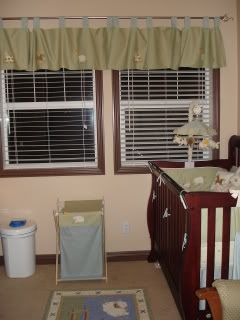 Here are her name letters hanging above the crib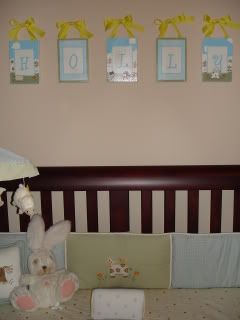 Here is her crib bedding up close (with toy bunny testing out the sleep positioner
)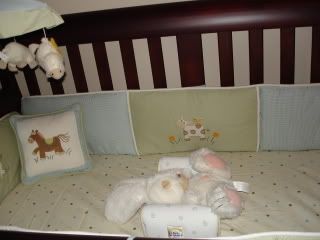 Here is the changing table/dresser with the cow lamp on top. All of the matching pieces like the lamp were included in her bedding set and we got it at about 70% off the regular price
The center wall hanging was made by my godmother and was in my room when I was a baby
This is the rocking chair that my parents bought for us. I love it and I think we will use it a lot!
This is the bookshelf that DH put together. It is a cheapy from Ikea but it was hard to find something to fit in this oddly shaped corner of the room
We're so relieved to have it finished! I love to go in there and just sit and look at it!
Ashlee