http://www.toysrus.com/product/index.js ... Id=2967862
or for those who hate links...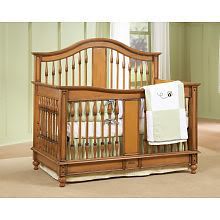 Now there is no way I will pay $500 for a crib..... Even if it is a convertible. I know some people do. I am not bashing you... but dang.... I want it.... I want it more than the other one I picked (that was #2 choice)...... My parents said they would buy Clark a crib. We never took them up on it because... well, when we decided to get one finally, we found out that we may be moving in several months... that and he STILL fits in his bassinet and he is almost 8 months old!!! lol and we have a cradle to use when he grows out of that. So no rush. But with new baby coming, we will get one once we get situated in NM.
I know they put no cap on the crib. As they say, get one I love because they are only buying us one..... I know they would not choke over a $500 crib.... They are very well off.... but $500 on a crib when I have one that I like almost as much...... It is not like the baby will care... that and what if Clark is not finished with the crib by the time this one needs it... then I will have to go get another one.... That would drive me nuts having 2 dif crib styles.....