We are still waiting on a glider & ottoman, shelves, and curtains, but here is what we have so far.
The crib
His name frames (undecided name, it will be either 4 or 6 letters)
The dresser/changing table & toy tote on floor. The room is small enough that I couldn't stand back far enough to get a better picture.
The bookcase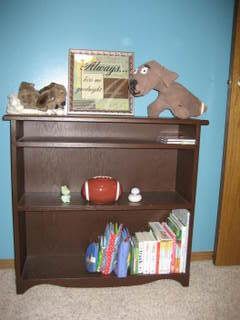 Close up of the 2 puppies my dh had when he was a little guy and the paper mache one his brother made him when he was in kindergarten.