Mon Oct 22, 2012 1:01 pm
So I went in for a 4d u/s this weekend as a birthday present from my mom. I was 15.5 weeks and the tech doing it is a nurse so i do trust her opinion, she said girl and looked 3 times from different places. Now I am being nervous as after 3 boys in a row and now having a girl... from the pics would you say chances are it's really a girl and I wont see a turtle at 20 weeks? Would you buy pink now? If it matters by ramzi method this baby was predicted girl at 6 and 8 weeks.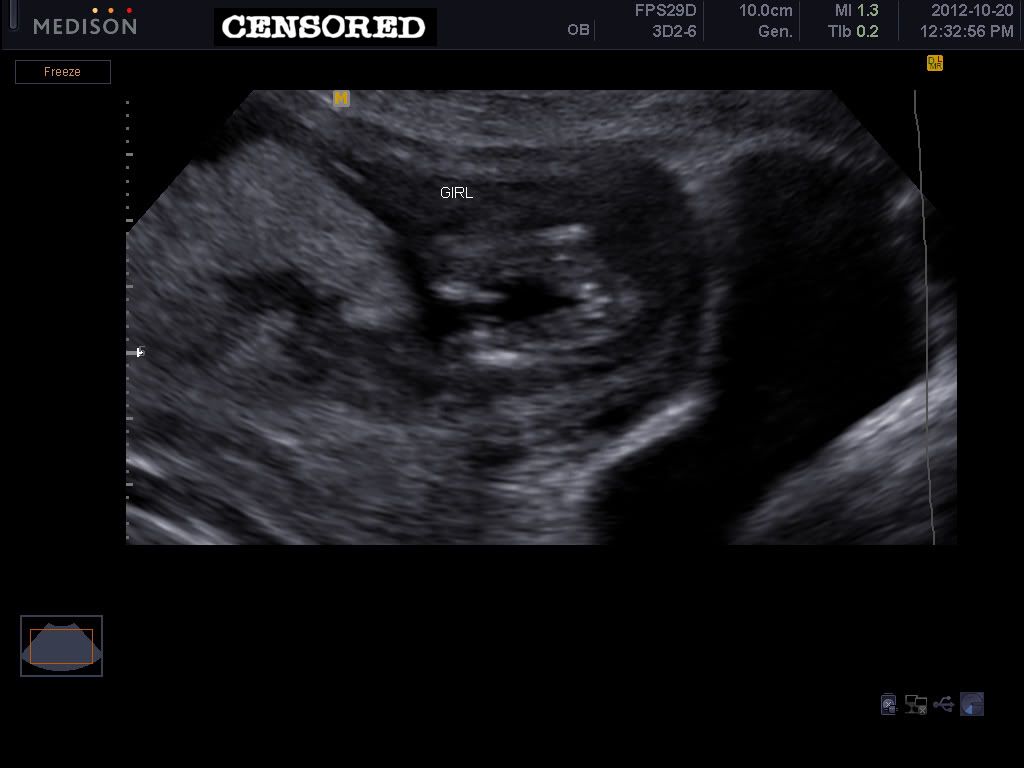 Wed Oct 24, 2012 5:57 pm
I say go for it (just keep the receipts if you want to be safe) Looks like a girl though, esp. the second one, so I don't think it's gonna change
Thu Oct 25, 2012 4:50 am
Yup, looks all girl to me. I say go for it and shop! I agree and would keep all the receipts. That's what I did with DD. I kept them all. I didn't fully believe she was a girl until she was born and my doctor said "no penis!" Lol.
Fri Oct 26, 2012 10:00 am
Def a girl because you can see a divot where the labia are...you'll have another U/S in a couple weeks anyways, so just keep the receipts...
Fri Apr 26, 2013 4:46 pm
Definite girl!
Mon Oct 21, 2013 3:29 am
I'd buy pink
Thu Oct 24, 2013 6:01 am
Hi I just had a gender US at 16 weeks and was told girl. The second picture is clearer and looks very similar to mine! My tech said she was '100%' sure she was so confident. I know they can never been 100% sure but I'm trusting its a girl!

My pic is posted in second trimester entitled '16 week gender scan' if you want to check it out!

Congrats!!