Hey girls...
Sasha is out of her casts and just passed her one month brace appointment with flying colors. She has a Dobbs brace and sees Dr. M Dobbs at Children's Hospital in St Louis. He's awesome and like Lizzen's doctor, Dobbs studied with Dr Ponsetti. Did you know Ponsetti STILL sees patients in Iowa? He's in his late 80s now...
Some pics of Sasha's feet. These have been on the Cloth Diaper board, but I want any new diagnosis mamas to see how far she's come in such a short period. 6 sets of casts. One tenotomy. No major surgery. No cutting of tendons.
Sasha ready for bed with her brace on: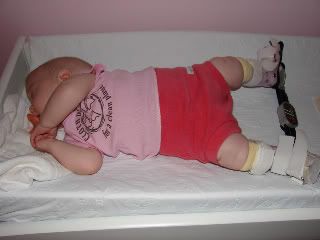 Sasha's feet at 4 months:
Sasha in her Bumbo seat at 4 months: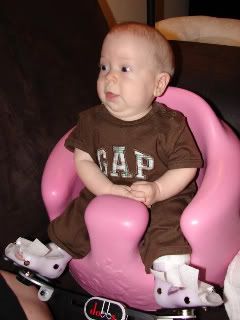 Her feet were not only turned in, but also completely curled up. Her legs looked like chicken wings. There is so much hope...just make sure to find a doctor who was trained by Ponsetti.