Here are our 4th of July babies, Keira & Katelyn! They were 4lbs 11oz (Keira, baby A) and 4lbs 10oz (Katelyn, baby B). Born at 2:23 & 2:27am at 34+3weeks.
Keira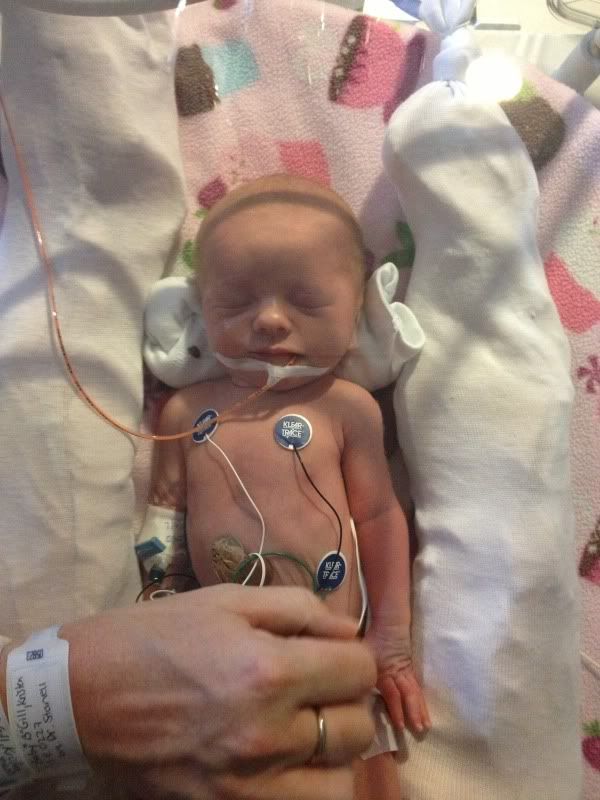 Katelyn (quick pic of her without her CPAP)
Quick birth story:
I went in for an OB appt on Wed morning and found out I was 4cm dilated. They sent me to L&D to be monitored and I was convinced I'd go home on bed rest and deliver in another week or two. The babies had other plans however and I had regular contractions every 5-7 minutes and then every 2-5 minutes while in triage. After a few hours of contracting the OB checked me and I was 6-7cm! I was in shock and totally (mentally) unprepared to deliver this early. Anyway, I was admitted and moved from triage to an actual L&D room. I was determined to deliver on the 4th and amazingly held out for over 8 hours before my water broke spontaneously at 1:30am. I was 7-8cm at that point but quickly went to 9cm and they had to scrambled to get me into the OR in time! Of course my Dr. was super busy and came in literally sweating from running between ORs! Apparently another set of twins were in the process of delivery at the same exact time!! Anyway, there wasn't time for an epidural even if I wanted one because both girls were born within minutes of getting into the OR. Baby A at 2:23 and Baby B (footling breech!) at 2:27am. Because I didn't have an epi, the recovery since has been very easy and smoother even than my other two deliveries. The girls are both doing really well. Keira (baby A) is doing fabulous and is off her CPAP, IV and is in an open crib already. Shes also nursing like a champ and both girls are getting donor breastmilk in addition to what I'm pumping for them. Katelyn is still on CPAP but we're hoping she'll be off of it soon as well. Think I'll insist on some kangeroo care with her tomorrow.
Thanks so much for the thoughts and well wishes!