We get a lot of the same questions on this board so I thought it would be very helpful to members, newbies and people seeking questions to put together a Q&A thread as a reference.

If there is a question, comment, answer you would like added please post below (or PM me at GreekMythFreak) and I will update.
Please make sure to checkout the POAS/BFP Sticky and U/S Sticky for examples of pee sticks and U/S pictures
What Were your Betas with Your Multiples
Twins
DV 10dpo - 32; 16dpo - 824; 23dpo - 6228
GreekMythFreak 18dpo - 2073
Imdesired 13dpo - 226; 15dpo – 557
caligirl22 14dpo - 204; 16dpo - 460
Ritzy 17dpo - 341
Ravenaub 9dp5dt (14dpo) - 156; 11dp5dt (16dpo) - 350
Twinklebug 10dp5dt: 239; 12dp5dt: 568; 16dp5dt: 3026
Meggola 8dp6dt/14dpo: 197; 10dp6dt/16dpo: 430
kricket724 7dp6dt/13dpo: 119; 9dp6dt/15dpo: 206; 16dp6dt/22dpo: 2643
Triplets
babydust2me 12dpiui - 136; 14dpiui - 323
Frankie1216 Aprox. 4 weeks Aprox. 5000
HawkeyeGirl18 11dpo: 55; 13dpo: 168 (saw 3 HB @ 5w6d)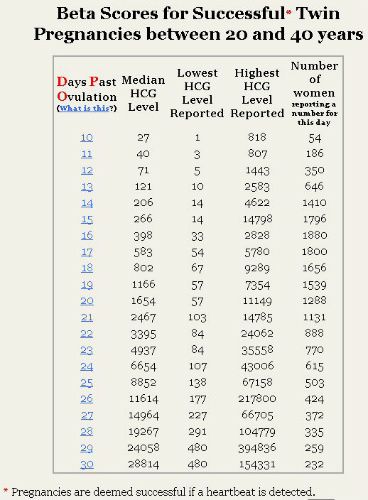 Can you Determine via Betas if you're Pregnant with Multiples
No. Betas vary so drastically they are not a good indicator. Many of the MOMs on this board had higher betas with their singeltons than their multilpes.
When Did you First see Your Multiples on an Ulltrasound
Most MOMs first saw two+ of something after 6 weeks, some as early as 5 week and a few days
How does the Doctor/ tech know which is Baby A, Baby B, and so on?
In prenatal ultrasounds, the baby positioned lowest in the uterus (closest to the cervix) is given the designation of "Baby A" because this Baby will likely be born first in a vaginal delivery. However, about 75 percent of twins are delivered by cesarean section and babies sometimes swap positions before birth. So it is possible for Baby B to be born first.
Fraternal vs. Identical Twins
Fraternal (Dizygotic) Twins
occur when two eggs are independently fertilized by two different sperm cells and are implanted in the uterus wall at the same time. Only their mother has any effect on the chances of having such twins; there is no known mechanism for a father to cause the release of more than one ovum. They may be of different or same sexes.
Identical (Monozygotic) Twins
occur when a single egg is fertilized to form one zygote which then divides into two separate embryos. Spontaneous division of the zygote into two embryos is not considered to be a hereditary trait, but rather a spontaneous or random event.
The timing of this separation determines the chorionicity and amniocity (the number of sacs) of the pregnancy.
Dichorionic
(2 sacs) twins are either fraternal twins or identical twins that divided within the first 4 days.
Monoamnionic
(share 1 sac) twins are identical twins that divided after the first week.
Side note: It is a common misconception that two placentas means twins are dizygotic (fraternal). If monozygotic (identical) twins separate early enough, the arrangement of sacs and placentas in utero is indistinguishable from dizygotic twins***
Dichorionic-Diamniotic Twins (di-di)
have two separate chorions and amniotic sacs (split never or within 1-3 days of fertilization) – Fraternal twins are always DiDi
Monochorionic-Diamniotic Twins (mo-di)
share the same placenta (split within 4-8 days of fertilization)
Monochorionic-Monoamniotic Twins (mo-mo)
share a placenta and a sac (split within 8-13 days of fertilization)
Conjoined Twins
(split within 13-15 days of fertilization)
** You really won't know if your twins are Fraternal or Identical until you know they are different genders or you get a Zygosity Test after they are born**
• Did you know that Mary-Kate and Ashley Olsen are actually fraternal twins?!!

• Elvis Presley had a twin who did not survive after birth. His name was Jesse Garon.
When Did You Find Out the Genders
Most between 16 – 20 weeks, but some as early as 12 weeks. It recommended to get a second confirmation for anything under 15 weeks before you start announcing and decorating
When is Full Term for Multiples
Twins Pregnancy – 37 Weeks
Triplets Pregnancy – 35-36 weeks
Most Doctors will discuss scheduling an Induction/C-Section for around 37-38 weeks
Side note: Most twins Implant and Grow at different rates, so most likely will never be the same weight or gestation (even if identical)
Milestones Multiples Mommies Celebrate:
1st major Milestone is 24 weeks:
the threshold of viability. Babies born this early will likely spend at least three months in the neonatal intensive care unit (NICU), and a third of them will survive with no long-term problems.
2nd Milestone is 28 weeks:
viability skyrockets. Ninety percent of babies who make it to this stage of gestation survive.
3rd Milestone is 32 to 34 weeks:
Babies born now generally have an excellent chance of survival, without any major long-term complications, though they might not have full lung maturity (which generally occurs between 33 and 37 weeks) and will need to spend time in the NICU. Some babies born at this stage may require oxygen to help them breathe, while others may need to be fed through a nasogastric tube (which runs through the nose into the stomach).
How Far did You Make it with Your Multiples Pregnancy
The average length of pregnancy based on this board is 35 weeks 2 days. That being said, here are the totals by weeks:
(# of mamas) = (# of weeks when delivered)
1 = 25w2d; 1 = 27w; 2 = 28w+; 2 = 31w+; 6 = 32w+; 8 = 33w+; 7 = 34w+; 11 = 35w+; 5 = 36w+; 11 = 37w+; 10 = 38w+; 1 = 39w2d
As you can see many mamas made it past 35 weeks.
How Much Weight Did You Gain
The average or recommended weight gain for average sized mothers of twins is between 35-45 lbs. Many say that gaining 24lbs in the first 24 weeks lowers your chances of premature delivery and low birth weight multiples.
How Long Were You Able to Keep Exercising
As long as your doctor okays it and you keep an eye on your HR, you should be fine to exercise as normal until you cannot anymore. Most ladies continued light walking up until delivery
When Did You Have to Stop Working
Depends on your pregnancy, but those of us with no restrictions/ complications worked until around 34 weeks or until the very last day. Some mamas opted to start their leave a few weeks early as the end is tough.
Side note: While not all mommas required bedrest, some did and this is a helpful tool: http://www.thenewparentsguide.com/wordpress/?p=9851
Were you Able to Deliver Vaginally or Via C-Section
Many Doctors are happy to deliver twins vaginally as long as Baby A (the one closest to your cervix) is head down. Some Docs will only delivery vaginally if both babes are head down.
Three mamas on the board delivered a baby each way (vaginally & C-section), but other than that:
6 documented delivered vaginally and 27 documented delivered via C-Section. These numbers are based on the mamas who have shared about their deliveries, not all members have shared.
Did Your Multiples Need the NICU and if so How Long Were They There
About half the multiples on this board had NICU stays. Mine were born at 35w 1d and had a 14 day NICU stay for eating and breathing issues.
Most of the time multiples do not get discharged home on the same day from the NICU.
Side note: There is a term in the NICU called Wimpy White Boy Syndrome – for unknown reasons premature caucasian males tend to struggle a little harder than females and males of another race.
Did your Twins Share a Crib
You will get mixed reviews on this topic. Most moms slept their twins in the same Crib/ Bassinet/ Pack-n-Play for the first few months – some preferred not to. You can start out with one crib, but eventually you'll need two.
Breast Feeding Twins
Yes, most of the MOMs on the site BFed their multiples. It's a process, so don't get yourself down, it takes a while to get into the 'swing of things'. If you're just not able to that's perfectly okay. With multiples there are no absolutes - you have to be prepared for any eventuality! Don't get your heart set on anything, like a birth plan or how I plan to feed or sleep your multiples - children tend to have a way of making you eat your words.
Most importantly, never let ANYONE make you feel bad. Advice is great, but adapt it to your family. There will be people in your life who will tell you that you can do it and that it's no excuse just because you have multiples, but they aren't YOU. You know what's best for your kids and that is all that matters.
Tandem Nursing Pillows are highly recommended – keep in mind it can take a while to get to tandem feeding for all 3 of you as it's a learning process for all.
Side Note: For most MOMs a Schedule is a LIFE-SAVER!
Some Quick Facts and Figures about Twins



• The average weight of twins at term is about 5.5 lbs

• Fraternal twins (girls) have twice the chance of giving birth to twins than singletons.

• Male twins will not have twins unless their wives have the ability to produce 2 eggs.

• Chances of having a twin pregnancy naturally is increased by maternal age (30+), genetics and number of previous pregnancies.

• It is a myth that fraternal twins skip a generation.

• 1 in 250 pregnancies can result in identical twins.

• Identical twins share the same DNA, but will have their own fingerprints!

• About 25% of identical twins are called mirror image twins. For example if one has a mole under her right eye, the other will have it under her left eye.

• Ideoglossia is the term used for the secret language of twins. This secret language actually does not exist. Once twins, as in any other baby, learn to talk, they mispronounce words but because their other half is capable of recognizing and understanding those words, it seems as if they have their own language.

• The Twins Law was first passed in Minnesota which allowed parents to actually have a voice in their twins' placement at schools.

• Quarternary Marriage is the term used when one set of twins marries a second set of twins - In case of identical twins marrying identical twins, genetically speaking their children will be more than cousins, they will be genetic siblings.